Sir John Reid, known always as Jock, was inducted into the Rotary Club of Melbourne in December 1939 with a classification of building material-manufacturing. He remained a Rotarian until his death at age 81 in 1984. His interview for membership was undertaken by Sir Angus Mitchell and he, in due course, delivered the Angus Mitchell Oration to the Club in 1981. He was President of the Club in 1953-54, awarded the Vocational Service award in 1978, and made a Paul Harris Fellow in 1984. Among his many Rotary activities was a role in re-establishing Rotary in post war Japan.
Sir John was involved in many organizations through his life, and many have continued through the family trusts he established. Some of contemporary interest include the Brotherhood of St Laurence and the Baker Institute. However, he supported or served on a variety of Boards including the ABC, Melbourne YMCA, Old Colonists Association of Victoria, the Royal Victorian Eye and Ear Hospital, the Walter and Eliza Hall Medical Research Institute, the Victorian College of the Arts, and the University of Melbourne Conservatorium of Music, to name a few.
The Rotary Club of Melbourne introduced a Community Service Award in his honour in 1987. The award is made in recognition of an individual judged to have been devoted to community welfare for a lengthy period without remuneration and the recipient is presented with a citation and plaque commissioned by the Club and produced by sculptor Michael Meszaros. The Artist believes Community service is largely concerned with helping the old, the young, the sick and the unemployed.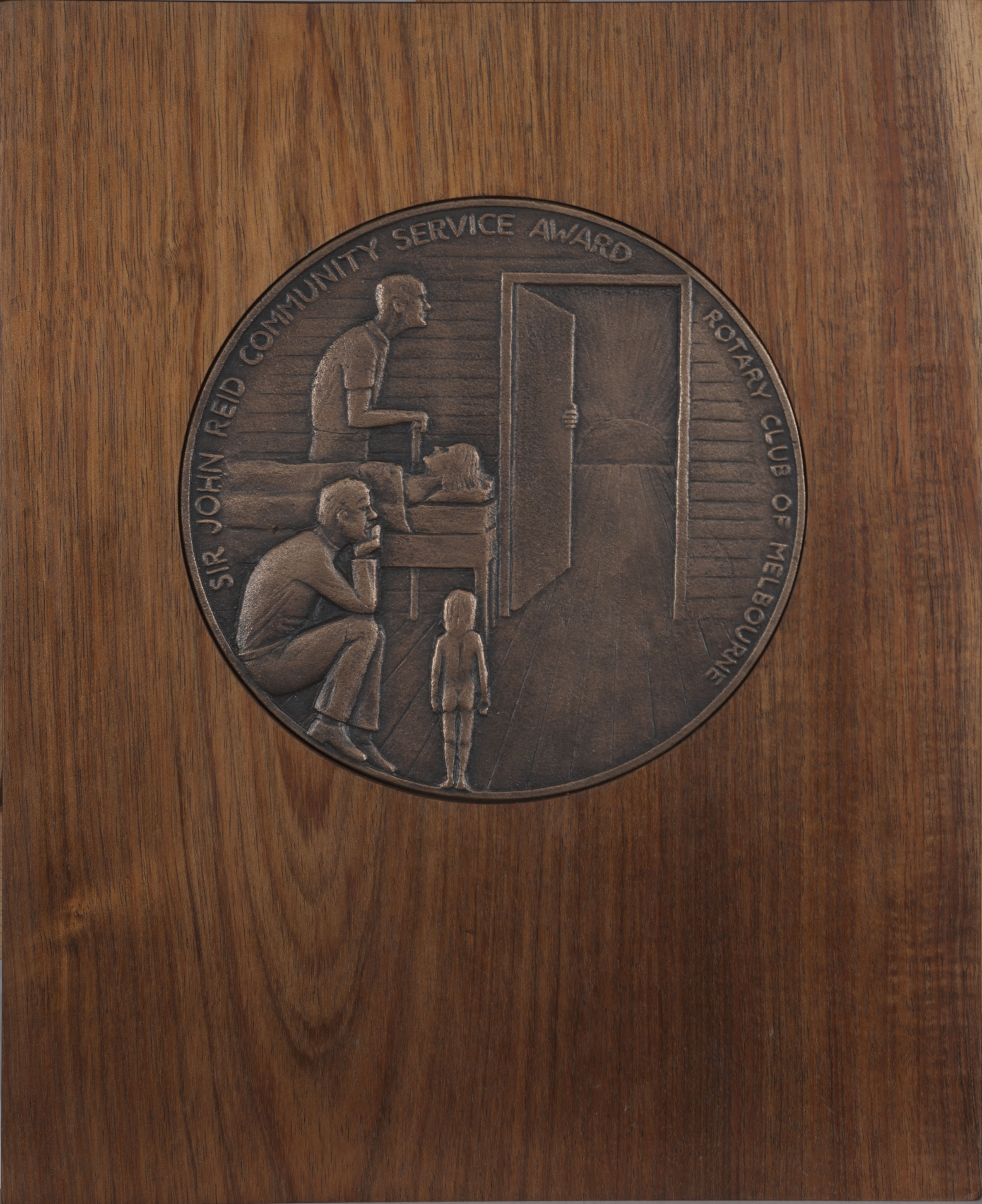 People in these 4 categories are constrained and limited by their circumstances. The plaque design shows these four areas enclosed by a wall, but with an open door with perspective lines running out through it to a rising sun. The door has been opened by a hand which belongs to the recipient of the award. The wall is the limitations, the door is the release from those limitations and the lines leading to the sun are the new opportunities. The hand makes it all happen.
At the Rotary meeting, 10 May 2017 the Chairman of The John T Reid Charitable Trusts, Belinda Lawson, announced that the Trustees agreed to Award to the Rotary Club of Melbourne a grant of $300,000 in honour of the memory of our beloved Past President. This grant will further reinforce Sir John and Lady Reid's Legacy in service and philanthropic endeavours and will be used to annually contribute a financial gift to the not for profit organisation associated with the Award recipient.
Sir John T Reid