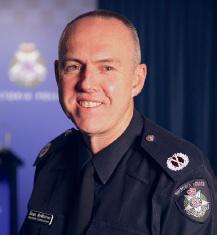 Date
From: Wednesday July 25, 2018, 12:30 pm
To: Wednesday July 25, 2018, 2:00 pm
Assistant Commissioner Dean McWhirter
Assistant Commissioner Dean McWhirter has had a diverse career during his 38 years in Victoria Police, including operational, investigation and corporate supervisory roles.
In March 2015, Dean was appointed as Assistant Commissioner of the Family Violence Command (FVC) which is responsible for Victoria Police's strategy, policy and best practice relating to family violence, sexual offences and child abuse, and is the first of its kind in any policing jurisdiction in Australia. FVC is leading Victoria Police's response to family violence and works collaboratively with community stakeholders to ensure appropriate implementation of the Royal Commission recommendations.
Dean is an advocate for victim welfare and as a result, has overseen the production of a number of support and education materials regarding sexual assault and child abuse.
Dean is the recipient of the Australian Police Medal, which recognises distinguished service by a police employee of any Australian Police Force.
Venue
Sofitel Hotel
Collins St , Melbourne VIC 3000
Share this with your friends