The Shrine of Remembrance will provide the last chance for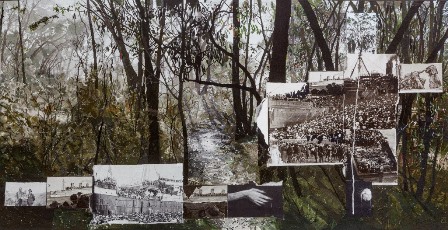 friends of the Australian Tapestry Workshop to view this extraordinary tapestry prior to its permanent relocation to the new Sir John Monash Centre at Villers-Bretonneux in France, which officially opens on 24 April 2018.
The "Morning Star" tapestry will provide a lasting legacy in perpetuity commemorating the 46,000 Australian lives lost in battles of the Western Front in the First World War and commemorate the centenary of ANZAC.
The magnificent tapestry is designed by Lyndell Brown and Charles Green, and hand-woven at the Australian Tapestry Workshop by Pamela Joyce, Leonie Bessant, Chris Cochius, Jennifer Sharpe and Cheryl Thornton.
"Morning Star" is generously supported by the Tapestry Foundation of Australia, Australian Hotels Association, ANZAC Centenary Arts and Culture Fund, Marjorie M. Kingston Charitable Trust, Calvert-Jones Family, Anne and Mark Robertson OAM, Baillieu Myer AC and Sarah Myer, Yulgilbar Foundation, Chasam Foundation and the Myer Foundation.
Share this with your friends