In 2008, Australia joined the World Health Organisation in their global goal to eliminate trachoma by 2020 and committed to extensive funding of programs aimed at trachoma's elimination. Since then, a coordinated effort to treat trachoma with antibiotics and promote hygiene saw levels of trachoma reduce from 21%, to 4.6% in 2015. However, to stop trachoma transmission and to stop trachoma bouncing back, we must work on prevention. We must make sure all children in these communities can keep their faces clean, and that they have safe, functional washing facilities.
Initiated by the Rotary Club of Melbourne, the goal to "End Trachoma by 2020" aims to unite Rotary clubs across Australia, in working towards eliminating trachoma by preventing the spread of infection that causes this avoidable blindness. This goal is endorsed by 2017-18 Rotary International President, Australian Ian Riseley.
Current projects we are supporting to this end are: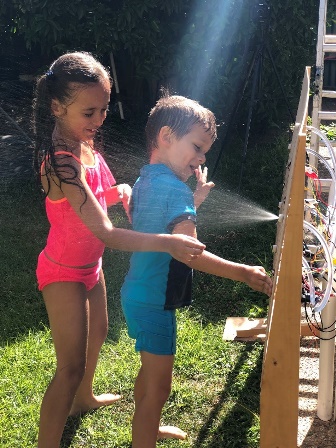 The End Trachoma 2020 - Trailer Project led by PP Rogers, supported with a seeding grant from the Rotary Foundation, which involves a collaboration with Corporate Members Monash University (Monash Industry Team Initiative-MITI), GHD, and Telstra in the design and building of a prototype mobile face washing station designed to be used by indigenous children in remote communities. The wash stations, mounted on a tandem trailer, can be deployed into Indigenous Communities in Central Australia – particularly for AFL sporting events and other community occasions.
If the prototype is successful it is hoped that additional units will be built on the APY Lands as part of an existing vocational training program for indigenous students.
Please click here to see the wash station trailer,
https://www.youtube.com/watch?v=D2VM20feC5g
The End Trachoma - The Nourish Our Communities Ltd (NOC Ltd) Project supported with initial Melbourne Club funding of $34,500, and now by funding from a charitable institution, and Australian Rotary Clubs, works towards eliminating trachoma by preventing the spread of infection that causes this avoidable blindness. This project is endorsed Zone Director Noel Trevaskis, and has been endorsed as a project to commemorate Rotary Australia's centenary year in 2021.The activities are focused around hygiene. More information on the NOC Ltd Project can be found at https://www.endtrachoma2020.org.au/
Share this with your friends