Firstly the riders – a total of 14 Club Members took part in the event, spread over the different length courses offered by Bicycle Network Victoria.
We also had 51 volunteers who helped out on the day – making sure riders knew where to go and helping injured and fatigued cyclists. Their efforts also contributed directly to raising funds which is outlined further below.
Fund raising was underpinned by 61 sponsors who supported our riders - 54 who signed up at the Wednesday lunchtime meetings and another 7 who committed via the Around the Bay website. Obviously without riders we don't have sponsorships and Susan Davis and Chris Rodd in particular did a great job seeking out friends and colleagues as sponsors. This might be an area to push a little more next year.
Finally the auction, which was expertly run by Kevin Sheehan, had prizes donated by: 2XU Apparel; Wilderness Wear; The Hotel Windsor and Sofitel Melbourne on Collins.
Thank you to those organizations for donating prizes and to all those who took part in the auction and to the 8 generous successful bidders. All in all lots of people helped out in different ways – some in multiple ways.
This year we raised a total $20,592. The rough breakdown was
Auction $1,570
Sponsors $6,686
BNV volunteer fees $2,950
RCM match $5,000
AtB website $4,386
Grand Total $20,592
This total represents a record contribution from our club which is great news but I guess the bad news is that there are plenty of kids who still need financial support to complete their schooling so the need for more fund raising goes on.
It is the Club's intention to be involved next year and we have already met with Bicycle Network Victoria to discuss the feedback we got from volunteers and others and will look for ways to do things a little better next year.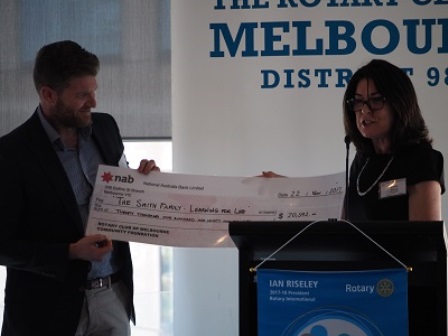 Picture shows Tim Haliburton accepting cheque from Pres. Mary.
Share this with your friends