He outlined the February 18 concert outing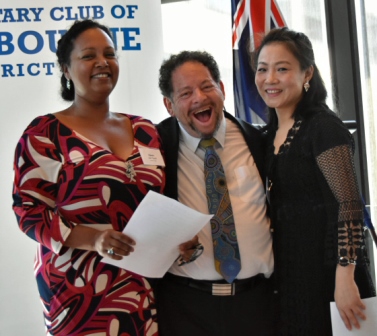 with Greg Romanes as our contact, March/April a planned Architectural Walk with Barbara Yerondais as contact and a mid-year Winter Arts Masterpieces at NGV with David Kram as contact. He also conveyed that Garry Fowler and Peter Berg were going to see Arts Access in South Melbourne to see if there was a likely project interfacing the arts and disability support.
David then introduced at our Festive lunch meeting, two fine professional singers who were donating their services; soprano Emily Wang and mezzo Karen van Spall.
Emily, whose parents were professors at Shanghai Normal University, came to Australia, raised a family and graduated with an Opera Diploma from the Victoria College of the Arts, Karen is also a graduate from the VCA and is of Dutch-Indian ancestry. Both are very much in demand in local opera circles and Emily often goes to sing in China.
We shall look forward to this year's Creative Arts programme from our Arts Committee and David Kram.
Share this with your friends